Warranty Info

To the extent allowed by law, Compel warrants to the original end-user that this product will be free from defects in its material and workmanship when used in a single shift (standard 8-hour day, 5 days per week). Defects are defined as failure in product function or structure, not user negligence or abuse.
Compel promises to repair or replace Compel products or components that is found to be defective in material or workmanship within the timeframes noted below provided the product is still a part of Compel's current offering at time of warranty claim and so long as you, the original purchaser, still own it. This is your sole and exclusive remedy. It applies to products purchased after January 1, 2014.
This warranty is subject to the provisions outlined below.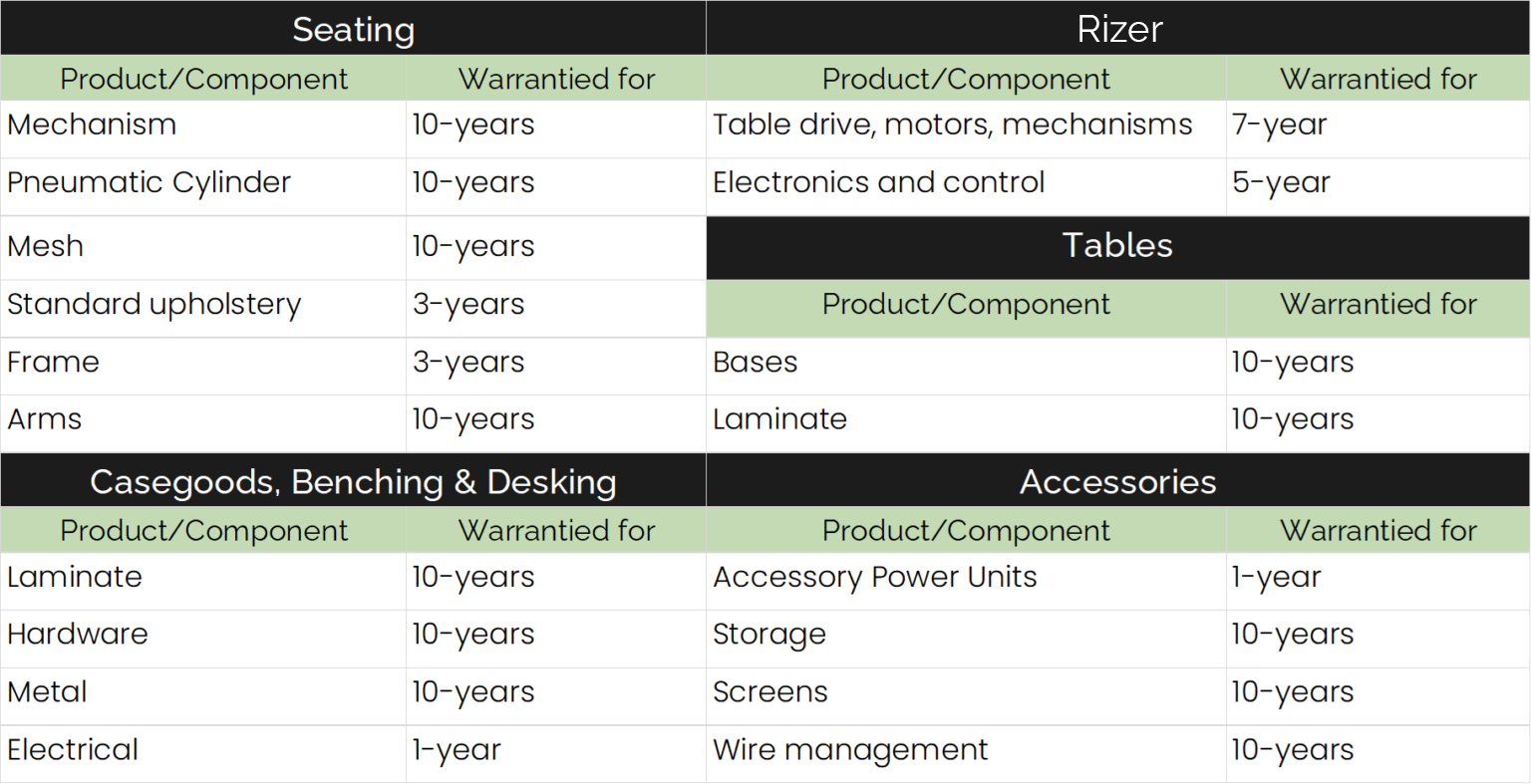 LIMITATIONS
Fabric upgrades are subject to textile manufacturer warranties. Fabrics textile warranties. Damage caused by the carrier in-transit is handled under separate terms.
This warranty covers Compel parts, products, and freight associated with shipping replacement parts and products. Install costs associated with replacing and/or repairing warrantied items are not covered by Compel.
EXCLUSIONS
This warranty does not apply to:
Normal wear and tear or acts or omissions of parties other than
seller (including user modifications or attachments, not approved
by Compel).
Products that were not installed, used or maintained in accordance
with product instructions and warnings.
Dramatic temperature variations or exposure to unusual conditions.
Floor samples, display models or Products used for rental purposes.
Products purchased "as is" and/or secondhand, closeout and/or
discontinued product, or those sold modified, altered, tampered
with or repaired by unauthorized dealers.
COLOR VARIATIONS, FABRICS AND FINISHES
Compel does not warranty the color-fastness or matching of colors, grains or textures of covering materials and does not apply to:
COM or other third party materials applied to Products
Color matching of textiles exactly to samples, swatches or prior purchases
Color transfer by user, i.e. tanning lotion, sunscreen, denim, etc.
Changes in surface finishes, including colorfastness due to aging or exposure to light
Minor irregularities of color, surface, grain and texture
PRODUCT PROVISIONS
Compel will, at its discretion, repair or replace with a comparable product, without charge to the original purchaser, only defective products or parts found defective during the warranty period. Should the covered product, no longer be available, Compel will make appropriate accommodations on a case by case basis.
If requested by Compel, the original purchaser must return the part or product with freight or other shipping charges prepaid.
Compel will not be liable for any consequential, incidental injuries or damages arising from use of the product.
This warranty shall be effective for the applicable time period beginning from date of purchase as shown on the original purchaser's original receipt or other proof of purchase.
PRODUCT DESIGN
The right is reserved by Compel to make changes in design and material, as well as discontinuance of parts and units when such action is deemed appropriate by Compel.
This is an EXCLUSIVE LIMITED WARRANTY.
There are no other warranties, expressed or implied, including without limitation, any implied warranty of merchantability or fitness for a particular purpose. Compel will not be responsible for incidental or consequential, special, or indirect damages. The purchaser is responsible for determining suitability for its intended use. Compel disclaims any liability for defects, loss of use, or claims or injuries arising out of the incorrect choice of product for a particular usage. Some states do not allow the exclusion or limitation of incidental or consequential damages, so the above limitations or exclusions may not apply to you.
POST SALE SUPPORT & CLAIMS PROCESS
All Compel products are carefully inspected prior to shipment and packaged to reduce the risk of damage during transit. All shipments are delivered to the carrier in good condition.
In the event a shipment arrives with damages and/or shortages, the following steps must be taken:
Before signing for product, make a notation of all visible damage, shortages, and/or time of truck arrival. Visible damages and/or shortages, along with any tampering with the Compel blue shrinkwrap, are to be reported to the carrier, on the Bill of Lading. Please photograph any visible carton damages (BEFORE unpackaging) to be submitted with the post-sales support request noted below.
Damages and shortages must be reported to Compel within 15 calendar days of receipt of shipment via the Post Sales Support Portal. PLEASE NOTE: Although you have 15 calendar days to report damage or shortages to Compel, the damages and/or shortages MUST be reported to the carrier on the Bill of Lading at the time of shipment receipt. Damage claims submitted after this time frame are not eligible for review. Please include as many details and photographs of damage as possible.
Claims for shortages or concealed damage found upon opening the shipment must be reported to Compel via the Post Sales Support Portal within 30 business days of receipt of shipment. Discrepancy and concealed damage claims submitted after this timeframe are not eligible for review.
EXCLUSIONS
Compel will not accept charges for the repair of damage caused by others. Compel is not responsible for damage that occurs in transit or once the Consignee has signed for product received in good order. The carrier signs for all products received in apparently good order. It is the Consignee's responsibility to examine products upon receipt and to file any claims with the carrier within such time frames as outlined by the carrier. Install costs associated with replacing and/or repairing claim items are not covered by Compel.
Compel is not responsible for any damage or shortages that occur in storage after delivery or at the installation site. For concealed damages, shortages, or incorrect products, Customer shall file claims directly with Compel through the post sales support portal within 30 business days after delivery.
Failure by the Consignee to submit a claim within such time periods shall constitute acceptance of the products and waiver of any claims for damages or shortages. Failure to provide proper documentation may result in claim denial.